Welcome to International Yang Family Tai Chi Chuan Association (IYFTCCA)
Affiliated school - Slovenia



Dobrodošli na uradno stran




Pooblaščene šole za tradicionalni Yang taijiquan (tai chi chuan) v Sloveniji




International Seminar with Grand Master Yang Jun
24 - 26 May 2013, Ljubljana, SLOVENIA
http://www.yangfamilytaichi.com/seminars/

Friday, 24 May 2013, 18-20h

Taijiquan Theory


Saturday, 25 May 2013, 9-12; 15-17h Basic, Hand Form 103 and Apalication
Sunday, 26 May 2013, 9-12; 15-17h Hand Form 103 Basic, Hand Form 103 and Apalication



REGISTRATION FORM (pdf)


Online registration form

Seminar location : Litostrojska cesta 51 (Srednja šola tehniških strok Šiška)
Ljubljana (capital of Slovenia)
Republic of Slovenia (EU)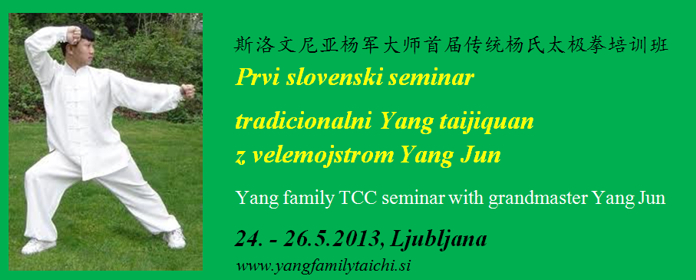 Accommodation near to the seminar venue and useful information:
hotel: www.m-hotel.si; www.hotelpark.si/; www.cityhotel.si/;
hostel: www.prenocisca-siska.si; www.aladin-hostel.com
http://www.slovenia.info/; http://www.lju-airport.si/eng; http://www.visitljubljana.com/en/



Prvi slovenski seminar
Tradicionalni Yang taijiquan z velemojstrom Yang Jun-om


od 24 do 26.5.2013, Ljubljana, Slovenija


Seminar je namenjen vsem ljubiteljem veščine taijiquan-a v Sloveniji in širšem evropskem prostoru. Seminar je primeren tako začetnikom kot tudi izkušenim.
Udeleženci seminarja pridobi spričevala o udeležbi od IYFTCCA.
Od marca do maja 2013 bodo pripravljalne delavnice za trad. Yang taijiquan (osnove, forma in aplikacije) ob sobotah pod vodstvom mojstra Chen Shining.


Master Yang Jun's Seminar (2011)

Grand master Yang Zhengduo's birthday (2012)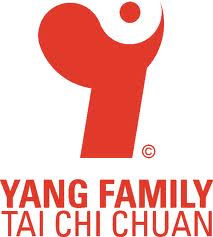 Current side:
povezava
Side in progress.
Thanks for your patience.